Today I came across (and followed) Amazing Maps twitter account. They post loads of interesting maps, like the one that shows who has supplies the oil, or the one that shows that my country has world's best extinction rate. This post, however, is dedicated to the map of countries prosecuting gays: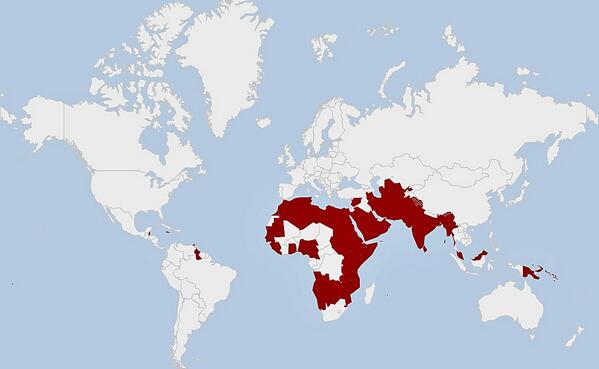 Personally, I don't care if you are gay or not (unless you're girl that I am interested in), but this map scored two points on my bullshitometer for dirty tricks it uses to influence my opinion. 1st, and obvious, was to cover offending countries in blood. Of executed gays, I suppose. 2nd, and less obvious, is clever choice of projection where gay-neutral Greenland (small island with 80% of its area being nothing but ice) has roughly the same size as whole gay-hating Africa. So, I decided to re-do this map using positive green color and population-based projection to make it a bit more representative:
Turns out it does not look that different, after all :) Gay-neutral China, the world's most populated country, conveniently offsets all those aftrican gay haters. In fact, I'm sure that very soon indian government will sort out their bureaucratic bullshit, and half of this green spot will be gone.
Update: they have now posted new version of the map that uses better projection and breaks it up by punishment severity.